VaporX XLT Personal Vaporizer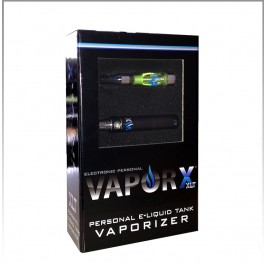 The Smoke Shop proudly introduces The VaporX® XLT Electronic Personal Vaporizer, the newest edition to our portable vaporizer line.
Description
The VaporX XL portable electronic personal vaporizer is the perfect solution for those who are always on the move and want a quick and simple way to vaporize your e-liquids. The Vapor X uses a two part system, first is the battery that heats the unit almost instantaneously, second is the cartomizer itself. By softly pulling through the mouthpiece the warm air vaporizes your e-liquid on the way to the mouthpiece. It delivers a smooth and cool vapor with no hassle what so ever.
The rechargeable battery on the VaporX lasts longer than almost any portable vaporizer out there, lasting through an approximate 650 pulls. So you won't need to worry about constantly charging the VaporX at all times. The VaporX is extremely small and convenient. The whole unit is as thin as a small marker and is about 5 inches in length. The VaporX's design really plays to familiarity, the second you pick one up you will feel comfortable using it and enjoy a quick and hassle free vaporizing experience.
Included:
- Vapor X Electronic Personal Vaporizer
- Cartomizer Cover / Cone Adapter
- USB Charger with Cable
- Wall Adapter for USB Charger
- 2 Refillable Cartomizers.
All colors & accessories are available @ your favorite One Stop Tobacco Shop in Miami.